Tom Walsh, founder and CEO of Staycity Group
As the new kid on the block, Yvie is finding her way around on Overhoeks by meeting other people in the area. This time she's meeting Tom Walsh, co-founder and CEO of Staycity Group, the operator of the extended stay apartments on floor 3 to 10 in the residential tower of Yvie.
Can you tell us more about Staycity?
"I founded Staycity in 2004 with my brother Ger. We saw potential for an extended and short-stay concept that gives the service of a hotel but the freedom of an apartment. We started with one aparthotel in Dublin, Ireland. Now, we have nearly 6,000 apartments in cities across Europe such as London, Edinburgh, Manchester, Paris and Berlin. 75% of our business is overseas and is still expanding. Our headquarters is still based in Dublin, with over a 100 people working there.
In 2017 we started Wilde Aparthotels, a premium brand next to our core Staycity business. The concept is inspired by the famous Oscar Wilde, the great Irish playwright who was also known for his wit and sophistication. In the Wilde Aparthotels we have references and subtle nudges to this Irish heritage throughout."
How did Staycity get involved in project Yvie?
"We've known Union Investment, the owner of Yvie, for a long time. We explored a couple of opportunities with them before Union Investment chose us to be the operator of the extended stay apartments in Yvie. We agreed upon collaboration in an early stage of the project. The construction of the building hadn't even started. This gave us the opportunity to configure it to our needs.
Subsequently, during the negotiations about Yvie, Union Investment purchased another development in London. As this project was almost built already, we were able to open our first Wilde Aparthotel in London's Covent Garden in 2018. Since then we've opened a further two Wilde properties in London – Aldgate and Paddington. So now we can use the experiences from here to do it even better in Amsterdam."
What do you like about Overhoeks?
"Well, what's not to love about it? It has its own really beautiful vibe. A mixture of edgy and all this brand new stuff that's going on. That makes it a really fantastic place for us. We've been doing business in Amsterdam since 2005. So I've been to Amsterdam many, many times. I've visited Overhoeks since 2007 and I've been really pleasantly surprised at how it has evolved. It's a modern attachment to the old city. And I think that the ferry is an incredible connection. You might think it's a little bit odd to get off the train, then continue your public transport by ferry to the other side of the river and then do another five minutes walk. But it's actually an amazing experience. It adds to your day. I've taken the ferry early morning, late afternoon and past midnight and at each time of the day it's a great experience."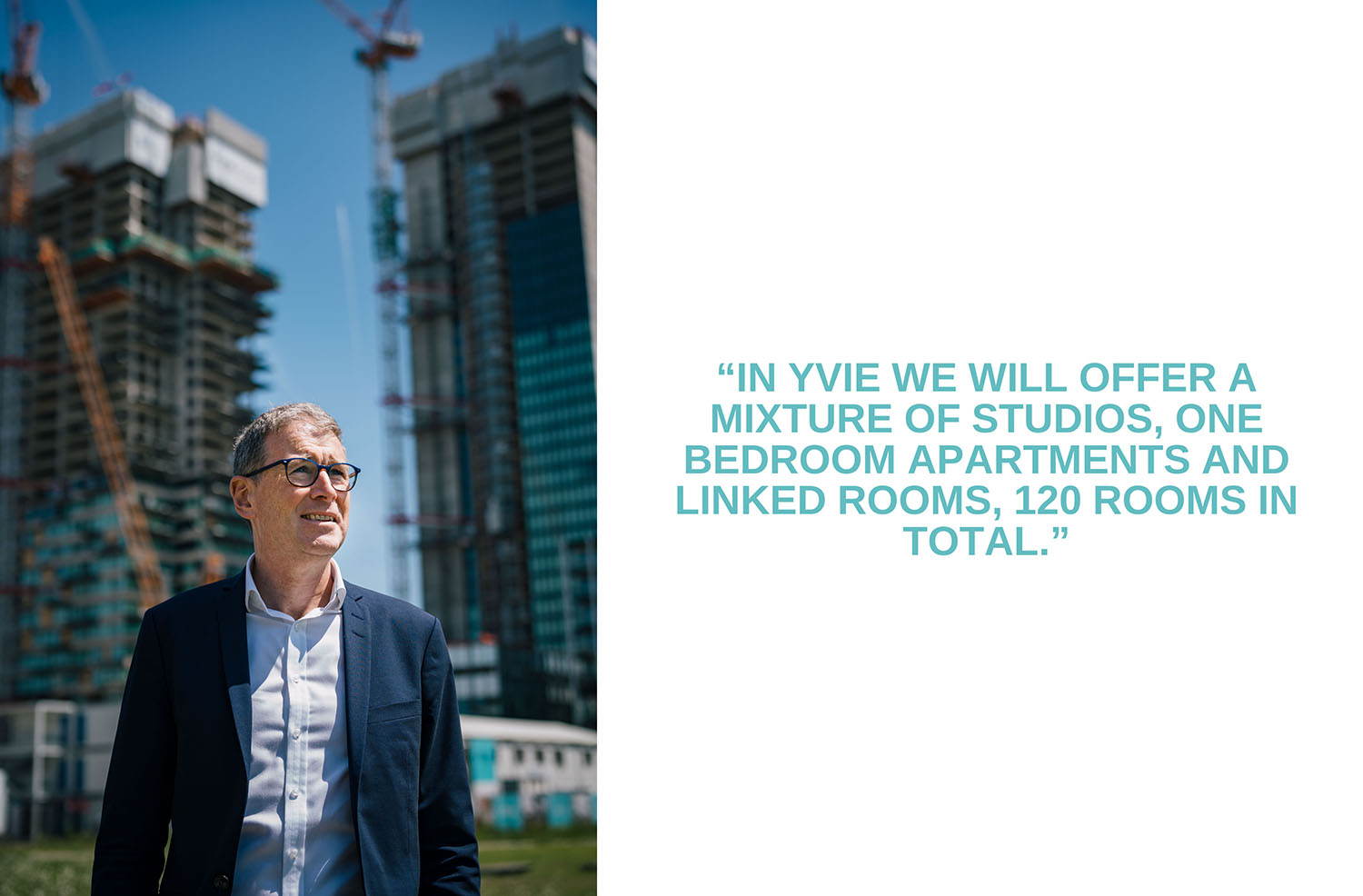 What can future visitors expect from Staycity?
"In Yvie we will offer a mixture of studios, one bedroom apartments and linked rooms, 120 rooms in total. They will all be designed according to our Wilde Aparthotels concept. This means that our guests can expect a premium designer interior. But foremost, we are really fanatical about our guest experience. We aim to put a smile on our guests' faces and to make sure that when a guest asks us something, we say 'yes' as much as possible. I'm proud to say that most of our guests leave with a very high opinion of Staycity thanks to our amazing operations colleagues."
 What makes Staycity different from other hotels?
"We have a minimum stay of seven days up to 12 months, which is regulated by the city of Amsterdam. That sets us apart from other hotels. We are specifically targeting people who are on longer missions and who prefer to be in their own living space. Think about people who are in between houses for a short period of time. Or employees from big companies who are sent over to Amsterdam to work on a project for 2 or 3 weeks. Also, families like to stay in our linked rooms, especially with younger kids. Groups of friends prefer to stay in our single accommodation units because it's very sociable."
What are you looking forward to most?
"This will be our first Wilde Aparthotel in the Netherlands. So we are really excited about opening our doors in Amsterdam in May 2024. We will also provide concierge services, a coffee bar, a gym and a roof terrace for the future residential and office tenants of the Yvie complex."